We are excited that you are considering Immanuel Lutheran School for your child! For all new families, our enrollment process begins by contacting the school office to schedule an informational parent meeting and tour. Immanuel offers personalized tours by appointment to accommodate busy schedules.
To begin the enrollment process please contact the school office using the form below, by emailing schooloffice@immanuelloveland.org, or by calling (970) 667-7606.
Contact Us to Tour Our Campus
A personal tour is a wonderful way for families to get a first-hand look at Immanuel's campus, see our teachers in action, and learn about our curriculum and numerous extracurricular opportunities for students.
Immanuel offer tours by appointment to accommodate busy schedules. Please call the school office at (970) 667-7606 or email schooloffice@immanuelloveland.org to schedule your tour today.
Immanuel is eager to partner with you in providing your child with exceptional education that develops academic skills within a community committed to sharing God's love. If you feel that your family needs assistance to pay for an Immanuel education, then we strongly encourage you to apply for financial aid and speak with our School Director, Cheryl Gilbert.
We will be accepting Financial Aid applications for the 2021/2022 school year starting in November 2020.
​Click here to begin our financial aid application through SMART Aid. If you have any questions, please contact our Finance Office.
At Immanuel tuition is paid annually, bi-annually, or monthly. Our monthly payment schedule is for 11 months from July – May. Families that enroll during the school year will be offered pro-rated tuition.  A one-time registration fee is due at the time of enrollment.
Childcare is available before and after school. Visit our Childcare page to learn more!
Families who pay tuition in full by June 1, 2021 will receive a 10% discount on total tuition.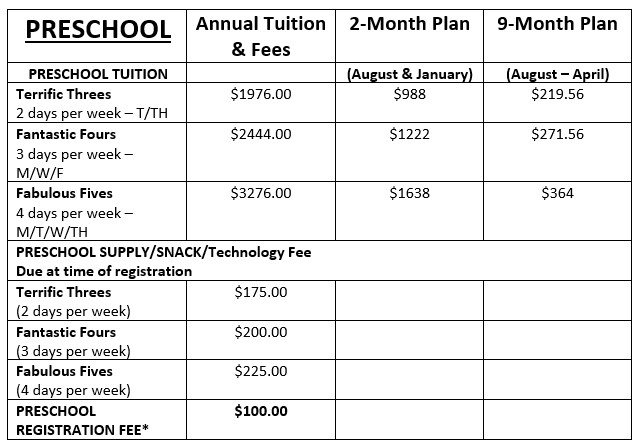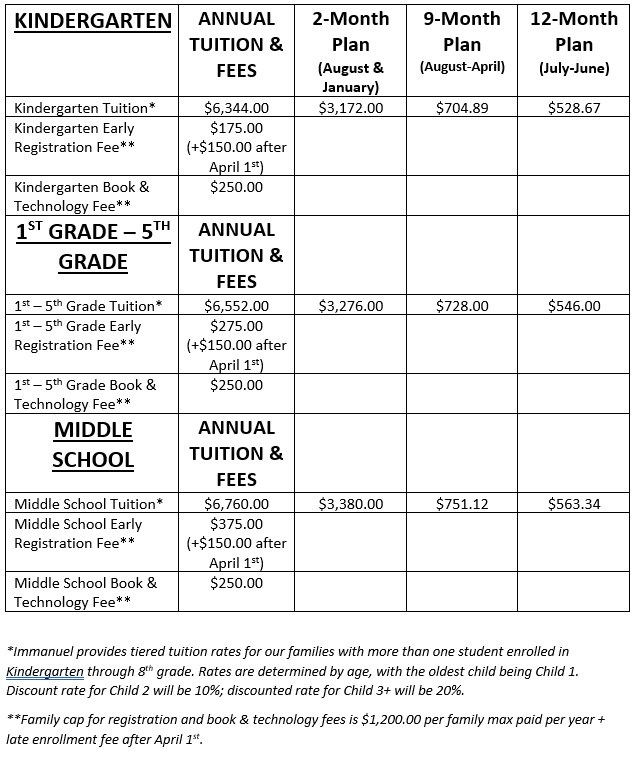 Address:
4650 Sunview Drive
Loveland, CO 80538
(On the corner of Highway 287 and 50th Street)
Hours:
Summer school office hours:
Monday through Thursday from 9am-2pm.
School year office hours:
Monday through Friday from 8am-4pm.