Re-enrollment has begun for the 2022-2023 school year! And we have gone to a completely digital format! We are excited to make re-enrollment and registration easy for all Immanuel School programs, including School Year Childcare and King's Kids Summer Camp.
Re-Enrollment Steps:
Sign in as "First time logging in."
Follow prompts. When asked if you have a Blackbaud Tuition Management account (formerly SMART Tuition), check "Yes". This will prompt the system to find your account and link your SMART Tuition account to your Blackbaud Tuition Management account.
Continue to the Application and complete any missing questions.
Once the application is complete, a contract will be assigned to your account.
Complete your contract and select your payment schedule and method. You may change your payment method at any time by accessing your Blackbaud Tuition Management account.
Please note: payments using a credit card will be assessed a processing fee. ACH withdrawals from a savings or checking account will not have fees assessed. Payments may also be made with cash or check at the bookkeeping or school office, but they must be processed before the scheduled withdrawal date you select on your account to avoid a double payment.
Upon completion of the contract, you will be prompted to pay the registration fee. Verify that the contract reads "early registration fee" (this will be the discounted rate, which is $150 less than regular registration). This payment will secure a spot in the classroom you have applied for.
Once the registration contract is completed, other forms can be assigned to your account such as King's Kids Summer Camp, Childcare, and other classroom forms specific to your child's grade.
For those who are new to Immanuel Lutheran School:
You will be prompted to confirm if you had a Tuition Management account at Immanuel Lutheran Church and School in 2021-22. Please click the "No" button.
Upon signing your enrollment contract, it will automatically create a Tuition Management account for you. To access it, log in to the Enrollment Management platform, click on "Resources", and you will see a board tile created for Tuition Management.
Click on "Tuition Management" and you will be automatically re-directed to your Tuition Management account. On your account, you will see any billing due for the 2022-23 school year.
NOTE: If you previously had a Tuition Management account at another school, or currently have on at another school for a sibling(s), it cannot be merged with the one that you will have for Immanuel Lutheran Church and School. You will be required to have one at both school in this scenario.
Contact Us to Tour Our Campus
A personal tour is a wonderful way for families to get a first-hand look at Immanuel's campus, see our teachers in action, and learn about our curriculum and numerous extracurricular opportunities for students.
Immanuel offer tours by appointment to accommodate busy schedules. Please call the school office at (970) 667-7606 or email schooloffice@immanuelloveland.org to schedule your tour today.
Assessment testing is required for children seeking to attend 1st grade through 8th grade at Immanuel Lutheran School. Testing is scheduled one-on-one with their potential teacher and normally takes 25-35 minutes.
Immanuel Lutheran School is eager to partner with you in providing your child with exceptional education that develops academic skills within a community committed to sharing God's love. If you feel that your family needs assistance to pay for an Immanuel education, then we strongly encourage you to apply for financial aid and speak with our School Director, Cheryl Gilbert.
We will be accepting Financial Aid applications for the 2022/2023 school year starting in November 2021. If you have any questions, please contact our Finance Office.
At Immanuel tuition is paid annually, bi-annually, or monthly. Our monthly payment schedule is for 11 months from July – May. Families that enroll during the school year will be offered pro-rated tuition.  A one-time registration fee is due at the time of enrollment.
Childcare is available before and after school. Visit our Childcare page to learn more!
Families who pay tuition in full by June 1, 2022 will receive a 10% discount on total tuition. Please notify the school office at schooloffice@immanuelloveland.org and your account will be adjusted.
Early payments may be made once the contract is signed. When making payments for the upcoming school year, make sure you apply your amount to the 2022-2023 school year.
If you plan to have SCRIP rebates applied to your tuition account, please make sure you have filled out the SCRIP Gift Card Program Agreement for the new school year. You can find SCRIP forms in the Church or School office. Rebates earned during hte current school year may not be applied to the upcoming school year.
All questions can be directed to Amber Zack (azack@immanuelloveland.org) or the school office (schooloffice@immanuelloveland.org).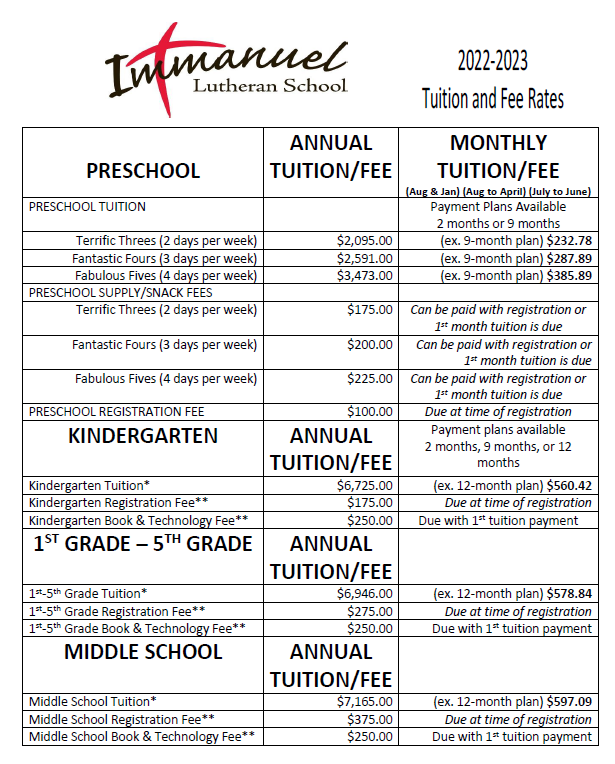 Address:
4650 Sunview Drive
Loveland, CO 80538
(On the corner of Highway 287 and 50th Street)
School Office Hours:
School year office hours:
Monday through Friday from 8am-4pm.
Summer school office hours:
Monday through Thursday from 9am-3pm. Closed Friday.
School Hours:
Preschool: Terrific Threes: 8:15am-11am, Tues. & Thurs.
Fantastic Fours: 8:15am-11am, Mon., Wed., & Fri.
Fabulous Fives: 12:15pm-3pm, Mon., Tues., & Thurs.; 11:30am-2pm, Wed.
Elementary & Middle School: Grades K-8: 8:15am-3:15pm, Mon., Tues., Thurs., & Fri.; 8:15am-2:15pm, Wed.