Check out this video to see a glimpse of our Christian Preschool,

part of our Early Childhood Education programs! 
Terrific Threes
Tuesday, Thursday / 8:15-11:00 AM
Fantastic Fours
Monday, Wednesday, Friday / 8:15-11:00 AM
Fabulous Fives
Monday, Tuesday, Thursday / 12:30-3PM & Wednesdays / 11:45AM-2:15PM
Immanuel Lutheran School's Christian Preschool program offers 3 classes for children from 3 years to 5 years old: Terrific 3's, Fantastic 4's, and Fabulous 5's.
Our Terrific 3's class is a child's first introduction to preschool. We focus on socialization, sharing, and getting along with others. We work to develop fine motor skills, have a joyful outlook on school, and a love of Jesus. The class meets two days a week on Tuesdays and Thursdays from 8:15–11:00 a.m. Children must be 3 years old prior to September 15th.
Our Fantastic 4's class learns about shapes, numbers, and will be exposed to the alphabet through fun and hands-on learning. We will prepare for Kindergarten by practicing our listening skills, extending our attention span, and developing our fine motor skills. The class meets three days a week on Monday, Wednesday and Friday from 8:15–11:00 a.m. Children must be 4 years old prior to September 15th.
​Our Fabulous 5's class is an expansion of the 4-year-old class. Children in this class cover all the same topics, but with more in-depth activities and more hands-on experiences, along with further exploration of letters and numbers. The class meets four days a week, Monday through Thursday. Class is from 12:30–3:00 p.m. on Monday, Tuesday, and Thursday and from 11:45 a.m. – 2:00 p.m. on Wednesday. Children must be 5 years old prior to September 15th and/or have attended preschool before. Admission to the Fabulous 5's will be determined by the director.
You can find out more about the enrollment process by clicking here.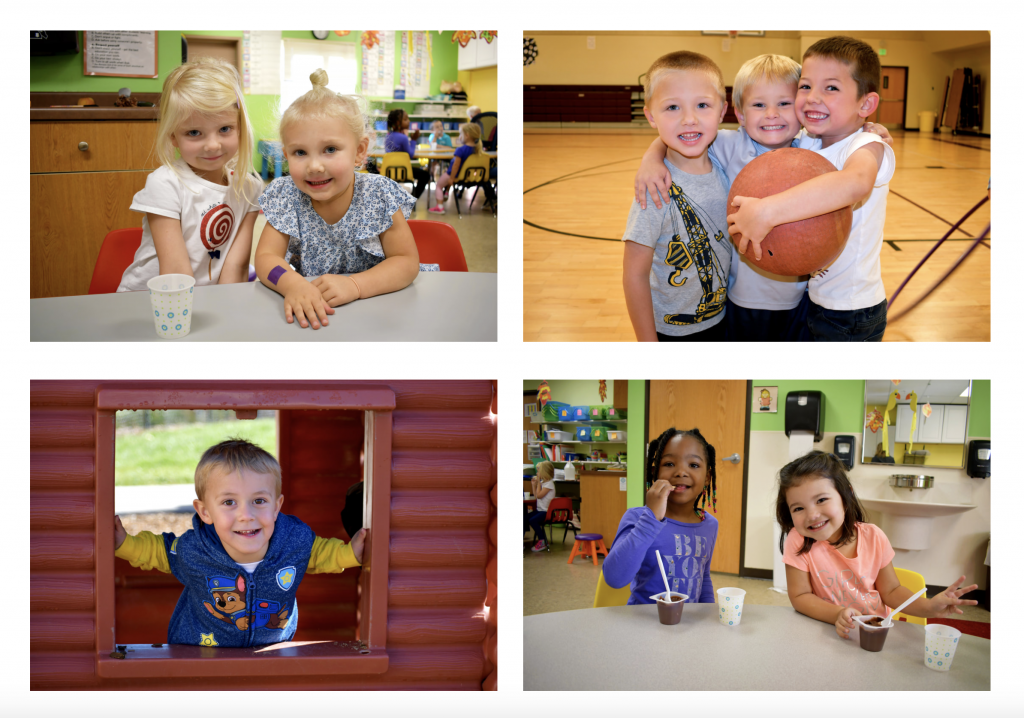 All students in class on Wednesday mornings participate in weekly chapel and are grouped into mixed-age chapel families. The afternoon Fabulous 5's class attends chapel on Wednesday afternoons. Offerings are given to a selected monthly chapel project and have included Nation-to-Nation Ministries, Life Choices Pregnancy Center, House of Neighborly Service, ILC Pastor's Pantry, and Samaritan's Purse.  Often our students create and write thank you notes to acknowledge special service to our school.
​At Christmas time, many classes collect gifts for needy, Loveland-area families. Our church and school prepares shoe boxes that share the love of Jesus to children around the world through Operation Christmas Child.
Academic Highlights 
•    Integrated, thematic curriculum makes learning fun and meaningful.
•    Second Step social-emotional learning curriculum leads students in their abilities to get along with peers and developing strong social skills.
​•    Handwriting Without Tears activities advance all areas of motor development, in addition to growth in letter and number recognition and formation.
Ready to find out more?
Inquire today for more information!