Immanuel Lutheran is moving forward on plans to start a Christian high school in the fall of 2024! You can stay up to date on the planning process and latest news here on this page. The next major step is funding for the upcoming year of planning, which includes bringing on a part-time Director/Administrator to help lead this process. 
Matching Grant Challenge Met!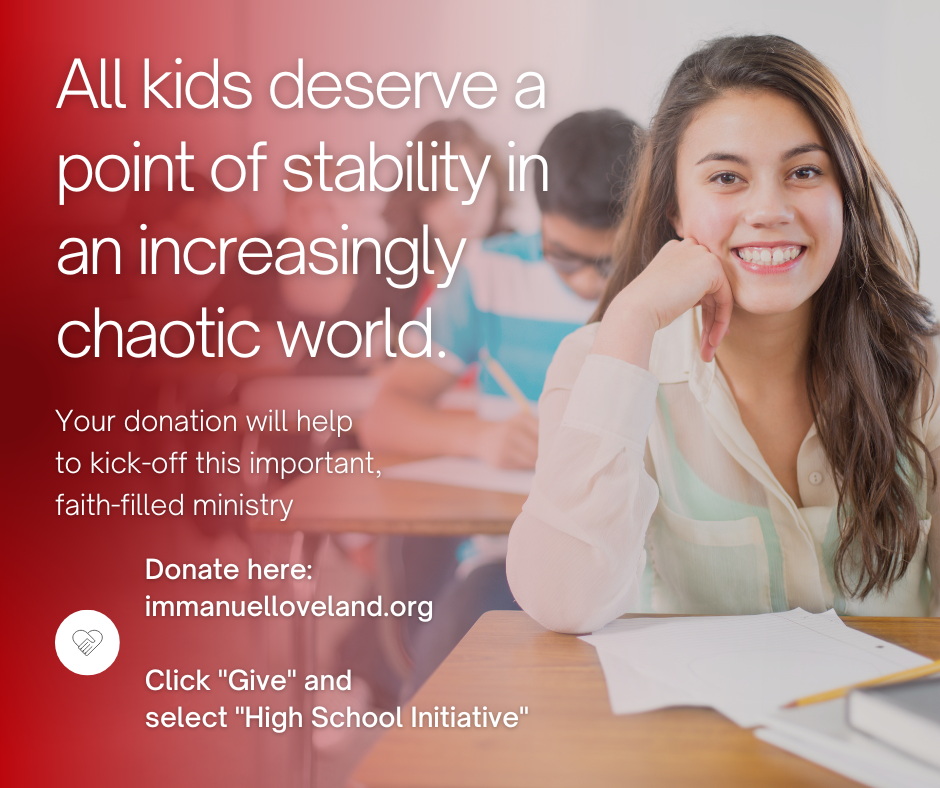 Three families committed a total of $60,000 to get us started. They held this gift out as a matching grant challenge, asking for others to join in the excitement and match these dollars to get us to at least $120,000. This amount will ensure a full year salary for our part-time administrator who will be taking the lead of the High School Planning Team, provide funding for marketing and publicity, help with remodeling of the rooms that will be used for the high school along with other resources needed, and put us in a good financial position to hire the first full-time teacher with $20-$25,000 in the bank in anticipation of the first year of the high school. 
As of September 18th, we have received $67,882 and not only matched but surpassed our goal! Thank you for the amazing response to help us reach and surpass our $60,000 Challenge/Matching Grant for the high school initiative – wow! Praise God! Thank you to all who supported this to help us continue moving forward with the planning process for a high school here at Immanuel. Stay tuned for some upcoming information meetings led by Rick Overton, the Executive Director of Immanuel Lutheran High School, and the rest of the high school team.
If you would like to be part of this exciting start-up by giving, you can give through by clicking the button above and selecting the "High School Initiative" on the pull-down menu. You can also donate by texting ILCGIVE to 77977, through the Immanuel app, or with cash or check with "High School Initiative" on the envelope or in the memo line.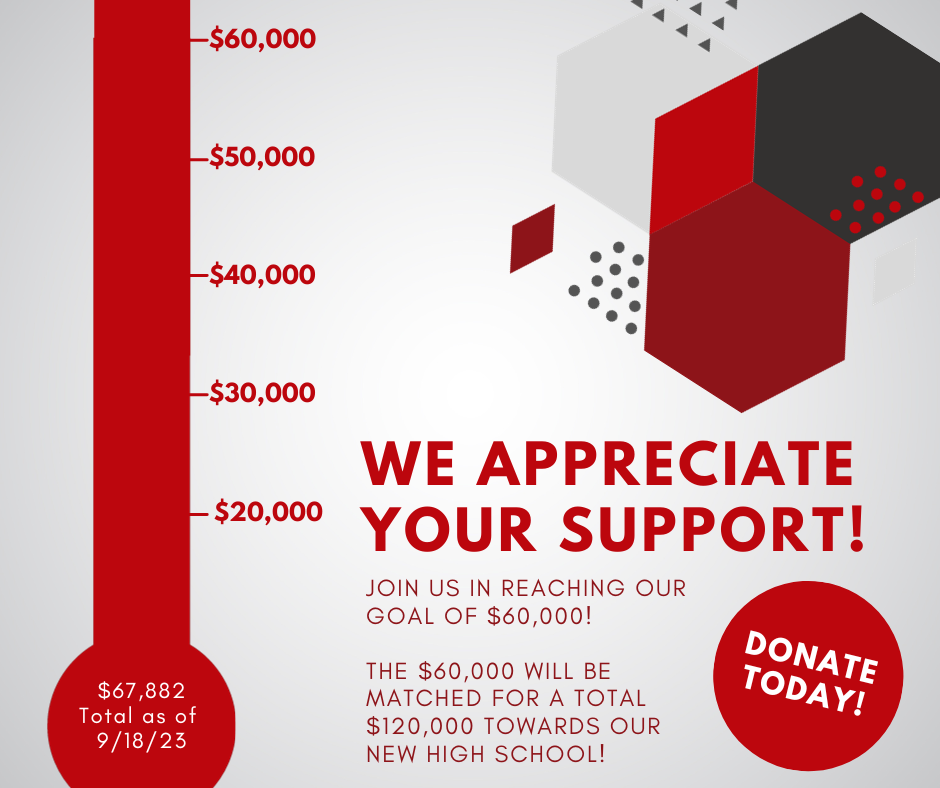 New Executive Director of High School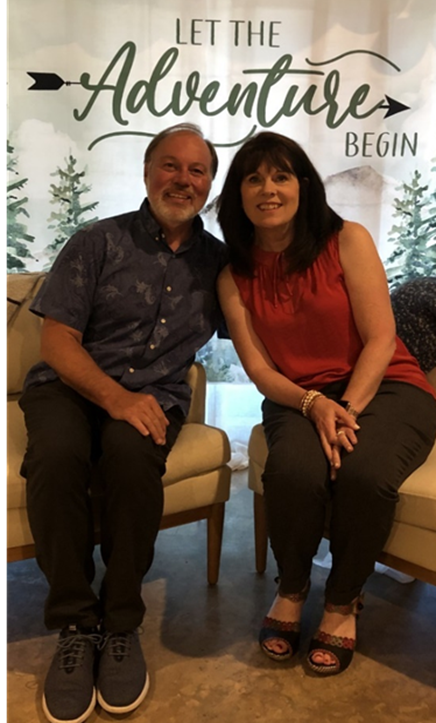 Thank you for the generous gifts that are continuing to come in for Immanuel's planning for a Lutheran High School. These gifts allow us to keep moving forward with the planning process. While we still need to raise about $17,000 to reach the $60,000 matching challenge that will enable us to plan and prepare appropriately through the next 12 months, the critical next step in the planning process was to hire an Executive Director for Immanuel Lutheran High School to lead the charge into a myriad of details and important decisions to be made.
That hire was made mid-July and Rick Overton of our congregation accepted the part-time position of Executive Director of Immanuel Lutheran High School. Rick officially started on July 10th and he's hit the ground running! Many questions are being asked, critical parameters are being considered, and next steps are being worked on. Stay tuned for continuing updates that will be coming from Rick and from the High School Planning Team.
Rick and Annette have both been involved in public education for 25 years. Rick retired on June 7th after 25 years as an educator, serving the last 12 years of his career as a Vice-Principal in the Poudre School District in Fort Collins. Annette continues to serve as Assistant Superintendent for Greeley Public Schools.
Rick said, "I'm excited and humbled to be a part of Immanuel Lutheran Church and School; to be working with a great team as we pray, seek God's guidance and leading; explore and plan for a high school that will expand the outreach and ministry of Immanuel Lutheran Church and School."
The Overtons officially joined Immanuel in May 2021 and Annette has been serving on the Executive Council since January 2022. Rick and Annette normally attend the 8:00 Classic Grace worship service. We've been praying for Annette recently at her mom, Joyce Cranfill's, death on April 20th of this year. They also very recently moved to Estes Park after living in Fort Collins for over 20 years.
We praise God for bringing Rick to us for such a time as this to serve as the Executive Director of Immanuel Lutheran High School! Take the opportunity to welcome Rick to this new and exciting endeavor. Keep him and the High School Planning Team in your prayers as well. Rick can be reached at roverton@ImmanuelLoveland.org and at HighSchool@ImmanuelLoveland.org.
High School Exploration Meeting on 4-25-2023
Special Voting Assembly on 5-31-2023
Interested in learning more about our school?
We currently offer enrollment for Toddlers (12m+) through 8th grade. You can learn more here.
Address:
4650 Sunview Drive
Loveland, CO 80538
(On the corner of Highway 287 and 50th Street)
School Office Hours:
School year office hours:
Monday through Friday from 8am-4pm.
Summer school office hours:
Monday through Thursday from 9am-3pm. Closed Friday.
School Hours:
Preschool: Terrific Threes: 8:15am-11am, Tues. & Thurs.
Fantastic Fours: 8:15am-11am, Mon., Wed., & Fri.
Fabulous Fives: 12:15pm-3pm, Mon., Tues., & Thurs.; 11:30am-2pm, Wed.
Elementary & Middle School: Grades K-8: 8:15am-3:15pm, Mon., Tues., Thurs., & Fri.; 8:15am-2:15pm, Wed.